Kelley Hulk™ Series Dock Lift Products provide innovative solutions to the unique challenges associated with moving products, making your dock 100% accessible.
Kelley Hulk™ Hydraulic Dock Lifts

Hydraulic Dock Lifts help keep loading operations more efficient, especially where space is restricted. Dock lifts are a cost-efficient alternative to expensive and space-consuming truck well recesses and concrete ramps. Kelley Hulk Dock Lifts can accommodate a wide variety of truck styles. Kelley Hulk Dock Lifts can be pit- or surface-mounted inside the building or in front of the loading dock.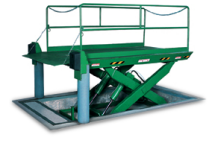 Kelley Hulk™ Rail Lifts

Kelley Hulk Rail Lifts are a cost-efficient, powered loading dock solution used primarily when a surface-mounted lift is required. Kelley Hulk Rail Lifts are completely self-contained, easy to relocate and are simple, fast and inexpensive to install. 42" high fixed handrail (optional on 2,500 lb. capacities). 18" long hinged bridge lip (optional on 2,500 lb. capacities). Sealed guide bearing rollers and 60" high fixed mast guard. Direct-thrust cylinders provide constant speed through full range of travel. Velocity fuses on lift cylinders prevent uncontrolled descent.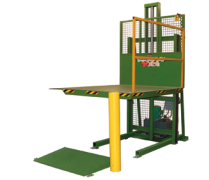 Kelley Hulk™ Kombo Dock

The Kelley Hulk Kombo Dock combines the speed and efficiency of a hydraulic dockleveler with the versatility of a scissors lift, eliminating the need for dedicated docks equipped with expensive concrete ramps or dock lifts. The Hulk Kombo Dock can service almost any style of trailer or van, from grade level to 59" above grade. 40,000 lb. capacity leveler with 16,000 lb. capacity scissors lift. Independent hydraulic system for leveler and lift. Internal scissor lift power unit.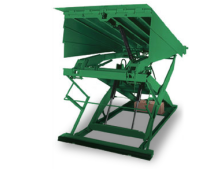 Kelley Hulk™ Truckleveler

Kelley Hulk Truck Levelers are used in applications where a dock is too high or low to service trailers with conventional docklevelers. Hulk Truck Levelers reduce the ramp angle to the back of the trailer by safely raising or lowering the trailer to match the height of the loading dock. This allows for safer loading operations, especially in wet, icy or inclement weather conditions.