When dock space is limited or the working range of a full-size, pit-style dockleveler is not needed, rely on economical Edge-of-Dock (EOD) docklevelers. EOD levelers are available with Air-powered, Hydraulic or Mechanical activation for smooth and reliable operation. Count on Kelley EOD levelers to increase operational efficiency on your loading dock.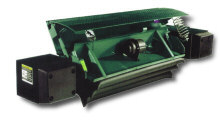 Air-powered activation
Push-button operation
Durable construction
Reinforced bumpers
No adjustments required
Working range 5" above & below dock
High-volume, low-pressure air bag
Maintains lifting even when punctured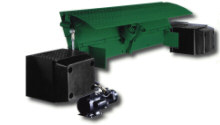 Hydraulic activation
Single Push-button operation
Durable construction
Reinforced bumpers
Broad working range
(5" above and below dock)
20,000 & 30,000 lb. capacities
Maintenance strut
Kelley Docklevelers can be integrated with other dock devices including trailer restraints, dock doors, inflatable seals or shelters, dock lights and security systems to improve productivity, security and environmental control. For advanced safety, dock equipment controls can be incorporated into a Master Panel and interlocked to work in a specified sequence.