Kelley Low Speed High Volume fans

High Volume Low Speed Industrial FansThe basic scientific principles behind High Volume Low Speed fans are not new. In fact, many cultures have been using large fans to slowly circulate air for hundreds of years. The simple laws of physics show that a gentle breeze is cooling, and any air speed beyond four or five miles per hour usually offers little, if any, additional cooling benefit. Today, engineers have combined the physics of slow-moving air with complex principles of aerodynamics to create an efficient, economical and environmentally- friendly solution for large spaces - the High Volume Low Speed (HVLS) fan.
Kelley's High Volume Low Speed (HVLS) fan series is designed to provide facilities with an energy-efficient and cost-effective cooling and heating solution. High Volume Low Speed fans move large volumes of air at low speeds over very large areas. The fan blades produce a massive column of air that flows down to the floor and outward in all directions, creating a deep horizontal floor jet" that ultimately circulates air up vertically and gets drawn back through the top of the fan.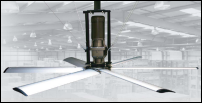 The result is more consistent temperature control, improved airflow / circulation and improved energy efficiency. In cooler months, the HVLS fan operates in reverse, circulating hot air trapped at ceiling level and creating a warmer and consistent mix of air throughout the facility (referred to as "destratification").
Fusion™ Series

Designed specifically to create a comfortable environment using the least amount of energy, the Kelley Fusion fan produces a large column of air to efficiently circulate the space and regulate the temperature of large facilities. The Fusion is suitable for a variety of environments, and its flexibility enables year- round savings.
Fusion™-PV Series

Our Fusion-PV (Photovoltaic) model takes the technology of an HVLS fan one step further by adding the environmental and energy-efficient benefits of solar power. The proprietary design and auxiliary power capability creates a stand-alone operating system capable of working in nearly any climate. Even better, the Fusion-PV does not sacrifice its effectiveness in controlling the temperature of large spaces - in fact, our 18' ( 5.5 m) diameter Fusion-PV puts out more airflow than some competitors' conventional 24' (7.3 m) fans. Renewable energy and low carbon footprint combine to provide years of reliable performance while supporting the environment and your company's bottom line.
Orbit™ Series

The Orbit is designed for spaces where ceiling height, sprinklers or ground obstructions may prevent the use of traditional HVLS fans. Small and powerful, the Orbit uses the same physics principles and technology of HVLS fans to produce a non-turbulent airflow of up to 26,432 cubic feet of air per minute, and costs less than 25 cents per day to operate. Its versatile structure allows strategic placement for optimal airflow, providing an energy-efficient replacement or supplement to traditional HVAC systems.