Kelley's full line of Hulk hydraulic, air and mechanical lift tables, turntables and tilters reduce back-related injuries while increasing overall productivity by making products and materials more accessible to the workforce. Kelley Hulk in-plant products automate simple tasks, such as:
Kelley Hulk Turntables

Kelley Hulk Turntables allow workers to rotate their work to them, rather than walking around it. When used with a Kelley Hulk Scissors Lift Table, Hulk Turntables reduce reaching, bending, twisting and walking associated with palletizing operations, easily enhancing both ergonomic and labor-saving benefits. Manual or powered models are available for efficient palletizing, build-up and break-down, and either can be mounted on a scissors lift, stable bench, or other surface. In addition, ground-mounting is also available.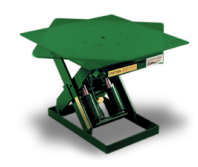 Available in 2,500 to 6,000 lb. capacities.
Rigid base frame with predrilled mounting holes.
1/2″ thick steel platform with rounded corners.
Tough TGP hard-chromed kingpin.
Rollers are sealed ball bearings for ease of operation.
Roller pins bushings are self-lubricating.
34″ x 34″ is minimum turntable size.