For trucks with lift gates, damaged rear impact guards, or those without rear impact guards, conventional restraints just won't work. That's why Kelley offers reliable automatic wheel restraints to secure virtually any truck or trailer configuration, assuring safe, efficient loading dock operations.
Kelley AutoChock® Restraints
To truly restrain all types of trucks (including trucks with liftgates or no rear impact guards), you need the Kelley AutoChock, a simple but revolutionary safety product. It's a permanently installed, automatic system that effectively restrains trucks with a massive, hydraulically operated moving wheel chock.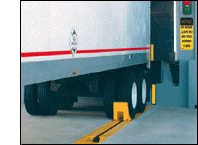 Kelley Surface Chock Restraints
The Surface Chock is designed to secure trucks and trailers, regardless of rear impact guard conditions. It is located above grade, allowing it to operate under extreme weather conditions including snow and flooding in driveway wells. The Surface Chock does not require continuous removal of driveway debris or grade excavation for installation. In addition, the Surface Chock also acts as a guide rail for the reversing truck.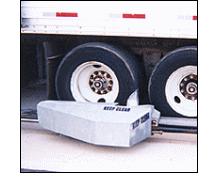 Kelley Manual Surface Chock
Kelley's Manual surface Chock provides loading docks with a cost-effective, versatile wheel restraint solution, and is capable of engaging and restraining the wide range of trailers that come to the dock, including trucks with lift gates, damaged Rear Impact Guards, or different axle configurations. Easy installation, simple operation and minimal maintenance provide a lower lifetime cost of ownership than other wheel restraint systems, and its ergonomic design enables easy maneuvering for accurate and reliably safe operation.