Specialty Docklevelers provide unique solutions to various loading dock application challenges. Whether you need a heavy-duty dockleveler for high-volume, heavy capacity loads, or a truly unique device to service extra-wide trailers below dock, Kelley has an innovative solution to meet your operational needs.
Kelley Vertical Storing Dockleveler
The biggest challenge for companies in the food, beverage and pharmaceutical industries and a growing number of other operations is sustaining a clean, energy-efficient warehouse environment. That's why thousands count on Kelley Vertical Storing Docklevelers for unequalled environmental control along with safe, secure performance, day after day.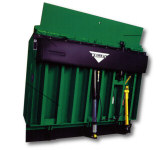 Kelley MEGA Dockleveler
Kelley's MEGA Dockleveler is a versatile design that can function as a conventional dockleveler while also providing the versatility to handle high-cube (low boy) trailers at a single dock position. Heavy capacity hydraulic dockleveler with a full 9' wide clearance for below-dock end loading.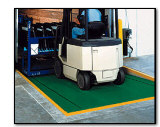 Kelley Hydraulic Heavy Capacity Dockleveler
Kelley HHC Series Docklevelers are ideal for the paper, auto and steel industries or any applications moving a large volume of heavy loads. Featuring heavy-duty I-beam construction with Dual hydraulic main and lip extension cylinders.