Kelley offers the best hydraulic docklevelers in the industry – the HP and HK. Standard features like premier lug-style lip hinges, simplified hydraulics, internal velocity fuses and modified open frame designs make Kelley hydraulic docklevelers the preferred equipment choice.
Kelley HP Hydraulic Dock leveler
Kelley's HP dockleveler provides automatic hydraulic operation with a single push-button activation and a mechanically activated lip. The HP's unique GRAVITY LIP™ automatically extends the lip in a smooth, quiet fashion as the dockleveler descends into the trailer.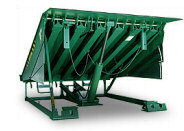 Kelley HK Hydraulic Dock leveler
Kelley's HK Dockleveler provides full hydraulic operation with single push-button activation. The 4" diameter hydraulic cylinder is mounted at the front of the ramp for maximum strength and efficiency.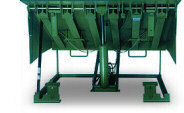 Designed For Improved Safety

All Kelley Hydraulic Docklevelers are equipped with a unique, redundant safety stop solenoid valve, which can interrupt the flow of hydraulics to stop the dockleveler at any stage of operation and is effective even when power is disconnected. Kelley hydraulic docklevelers also come standard with a patented hydraulic velocity fuse built into each cylinder, which restricts free-fall to three inches, should a truck pull away from the dock prematurely.
For maximum productivity in the most demanding dock environments, we offer a complete line of hydraulic docklevelers. Kelley uses advanced hydraulic technology and design simplicity to keep productivity high and maintenance costs low.